Of all the delectable delights that come through the shop these days, there is one consistent shop favorite– a sweet little food cart named 'Stretch the Noodle'.  They are a mom & pop food cart that, luckily for us, opened just around the corner from our shop a few months after opening in our new location. It would not be exaggerating to say that we eat here almost everyday.
What initially caught our attention about Stretch the Noodle was that they hand-pull noodles to order, and they are delicious.  These noodles are chewy and perfect, and you can order them in either a steamy bowl of soup (the La Mian) or in a dish of Chao Mian, with either chicken or tofu.  They also make a Chinese pancake, the Jian Bing, which is made like a crepe with a lots of egg and scallions– Jeff P. calls it "the perfect food."
Pictured here are Stretch the Noodle's lovely owners, in the process of hand-pulling noodles for someone's lunch:
After deciding to write a blog about our favorite food cart, we ordered the whole menu one day so that we could share how fantastic everything on the menu looks with all of you.  Enjoy!
An AWR feast: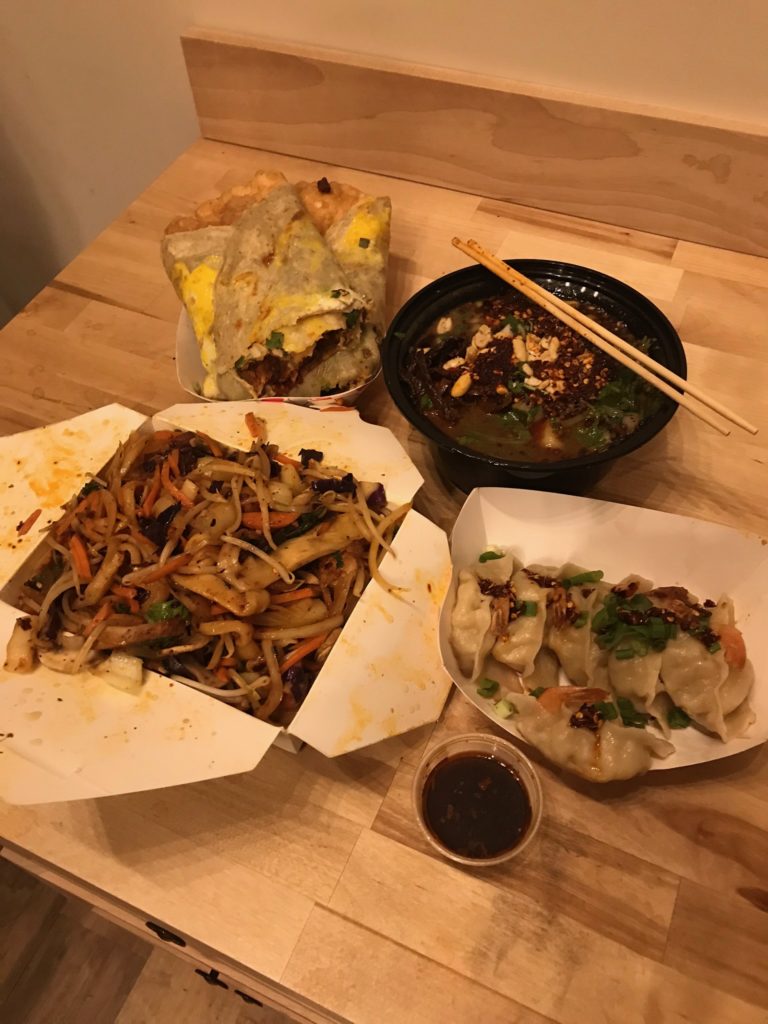 Let's start with the La Mian.  This is a Sichuan beef bone soup, and is great comfort food– we've been ordering it a lot lately since it's gotten so cold here in Portland.  It's got those awesome chewy noodles in it, along with beef and bok choy.  Yummmm.
Next is the Chao Mian, which comes with plenty of veggies to balance out all those delicious noodles.  This can easily be turned into your lunch and dinner, so word to the wise: don't over-order, they are generous with their portions!
And here is Jeff P.'s favorite, the Jian Bing!  It can be made with or without bacon, and is crunchy and perfect either way.
Last but not least…the dumplings.  It cannot be overstated how good these dumplings are.    They're offered as a special on their menu and will be either pork dumplings or, my favorite, the pork and shrimp combo.  They're worth a trip to Portland in themselves.
Oh, Stretch the Noodle, we love you.
In tattoo news, here's a little sneak peek at some tigers I've been working on lately.
Love,
The Boss